This new series is inspired by one of my favorite podcasts:
NPR's Pop Culture Happy Hour
. My favorite part of the show is toward the end when the hosts briefly discuss what's making them happy that week.
Plus it helps to keep a little gratitude in my attitude.
To kick it off, it's officially mid-August and all my teacher friends are officially going back to school (some have already begun!). I'm officially in serious class-planning and frantic chapter-writing mode, and it's kind of too much officialness to stomach after a month or two of ice cream dinners and weekday beach-bumming. We need some levity and happiness to offset this dwindling August! Summer4Evah!
Pop Culture Happy Hour
. I may as well begin here! PCHH is a lively, slightly nerdy roundtable of weekly pop culture trends, fads, releases, and events. (You can also read the corresponding blog,
MonkeySee
). The hosts discuss everything from upcoming fall TV to board games to
Revenge
(one of my favorite shows from last year, not even guilty about it). I tend to listen when I cook. Yesterday I downloaded last fall's episodes while chopping green chili peppers (more on those later).
"Laid Back Beach Music" Pandora Station.
I stumbled across this pre-set station early in the summer and have kept coming back to it ever since. Think acoustic man-guitar (Jack Johnson) mixed with enough Bob Marley to keep it from being eye-rolly. Soak it in while you can.
Rainy Mornings.
This has been one dry summer so I was particularly excited to wake up to a good rainstorm yesterday morning. I anticipated a long day of storms, cups of tea, and writing, but the sun came out by noon so I shut the blinds and turned the AC back on. Summer!
Grimm.
Another one of my favorite shows from last year is back on already! Do you watch? I think this is the only show that me, my sister, and our dad all watch. No spoilers from me but it's goood.
Gal Pals.
I spent Tuesday night with friends drinking coconut mojitos, eating $1 tapas, and catching up. (Well, I stuck with water due to frugality, but who cares—$1 tapas!) It's so rare to find time to see each other, and even rarer to do so on a week night. Plus, $1 tapas! But mostly the gal pal time, was the exciting part.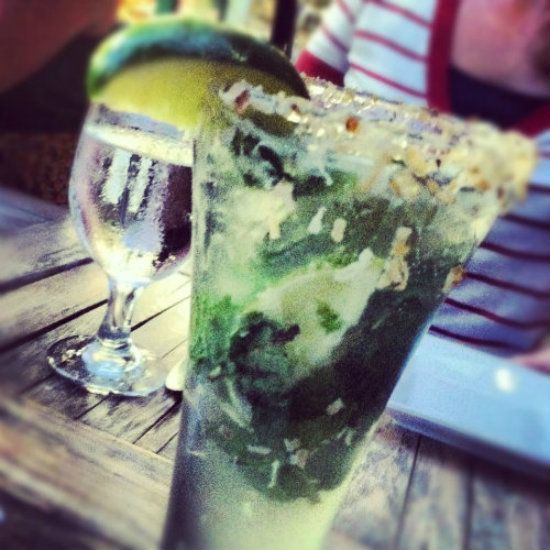 What's making you happy this week??