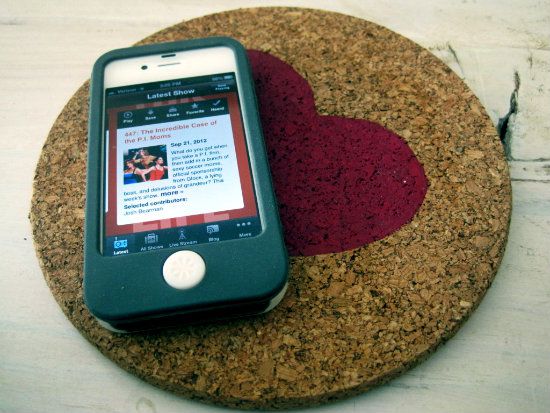 I am a fool for podcasts. I listen all the time. Mainly: when I'm driving (great for long and/or trafficy commutes), when I'm cooking, when I'm putting laundry away, and when I run. I may be one of the odd few who prefer podcasts to music during runs. I like to get lost in a story and I've been doing it for so long that it's become habit.
These are my weekly favorites, and yes, there's an NPR bias going on. They produce and/or distribute such varied and interesting material that I highly recommend them as a starting point in your search for podcasts.
TAL is usually the top of everyone's list. Each week focuses on an everyday theme, with 1-4 stories about said theme. Stories range from fiction essays to interviews to investigative reporting. My favorite episodes:
Notes on Camp
,
Act V
,
Back to School
,
And the Call Was Coming from the Basement
.
A roundtable of opinionated and often hilarious pop culture geeks. (I also wrote about PCHH
here.)
RadioLab describes themselves as "a show about curiosity. Where sound illuminates ideas, and the boundaries blur between science, philosophy, and human experience."
Other faves (for those extra long commutes or marathon cooking sessions):
You may be familiar with the books, but it's also a podcast! Stephen Dubner and Steve Levitt take a look at the "hidden side of everything." It's surprisingly interesting.
The fiction editor of
The New Yorker
invites writers on to read their favorite short story. Brilliance.
"Food and comedy in a bowl" and co-hosted by food writer and blogger Molly Wizenberg (author of
Orangette
).
This app gives you access to lectures from a wide range of disciplines. I've listened to a bunch on literary theory during my commute, which turns wasted time into a refresher on, say, post-structuralism or Russian formalism. Why not??
This only scratches the surface of all the terrific podcasts out there. What do you listen to?